outreach
In an effort to most deeply affect a positive experience for my students in their design education, I routinely find ways to enhance students' relationships to design through their community. A specific example of this can be found in the summer volunteer mentoring program developed between PlatteForum and MSU Denver Communication Design. Provoked by the challenge from World Studio's Design Ignites Change initiative, PlatteForum and MSU Denver design students have collaborated for three consecutive summers (2009, 2010, 2011) in creating a public response to design. Over summer 2012 a new relationship was formed between VSA Colorado / Access Gallery and the Communication Design program. Samples of work are available below.
Summer 2012
In June 2012, four VSA Colorado / Access Gallery students were mentored by four Communication Design students in an anti-bullying campaign. The campaign evolved into a narrative that told the story of two opposing characters who find friendship through the act of cultivation. The short film was written, designed and created by the students with mentorship by MSU Denver faculty Kelly Monico and Lisa M. Abendroth.
Summer 2011
During summer 2011, 12 ArtLab students were mentored by eight Communication Design students. Collaborations centered on exploring the sensory experience of home—what home means to each participant. Through the framework of design, student teams created audio and visual responses that revealed very personal meanings of home. The project culminated in the creation of a published journal that documented all the project outcomes from each team over the summer experience.
Summer 2010
During summer 2010, the combined teams worked to create a conceptually derived pop-up-store in the River Front area of lower downtown Denver. The store, called "Lessons Learned" showcased products and packaging reconceptualized and designed by the students to demonstrate symbolic or metaphorical manifestations of their life lessons. The multidimensional aspect of the show and the desire to design the space fully engaged the students in a total design project.
http://designigniteschange.org/projects/275-lessons-learned
Summer 2009
MSU Denver design students work as mentors to PlatteForum's youth from Denver Public Schools. Together for 10 weeks, the combined group of students worked together towards team-based design solutions. In 2009, the groups created a total of six social issue billboards. All solutions were displayed and one was chosen for implementation with the help of Lamar Billboards.
http://designigniteschange.org/projects/96-create-dont-hate-denver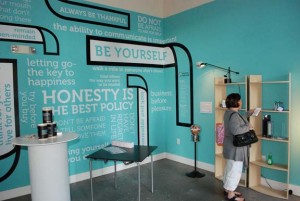 Lessons Learned Pop-Up Store at PlatteForum, Summer 2010